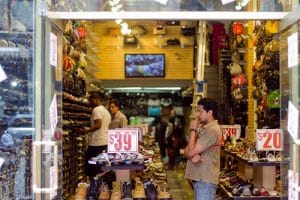 Are you considering upgrading your 
POS system
,
 or installing one for the first time? If so, our teamat United Banc Card of TN, LLC wants you to consider using an 
Advanced Retail System
—perfect for any Nashville-area store. The new software package offers a wide range of advanced POS features to meet the needs of businesses of all sizes and industries. 
Here are some of our small business POS system's most popular features:
Advanced reporting
Choose from a wide range of reports to provide a top-level view of business operations. Ideal for end of month sales reports, as well as for team labor reports. This can help keep things on track for audits, management meetings, etc. This feature also allows business owners and managers to track popular items and be ahead of the curve when ordering inventory from vendors to keep up with consumer demands for different products.
Automatic inventory tracking
Provides a real-time analysis of stock you have on hand from anywhere, with just a click of a button in the online portal. You can also setup low-stock alerts when products are running low. This also allows you to manage your inventory with ease.
Employee management tools
The system includes a built-in time clock and the ability to view a detailed breakdown of hours worked per employee or per day, as well as productivity reports. This section also allows you to manage the employment status of your team, as well as add new team members.
Customer database
Record comprehensive purchase histories and personal contact information to identify sales trends and best customers, making it ideal for loyalty and other incentive programs to be offered to those customers. This part of the interface also allows employees to easily make customer returns easier by accessing the customer's purchase history on demand.
Vendor Management System
Organize all of your suppliers into a single database for quick access of vendor details. This also allows you the ability to export your vendor list to a spreadsheet for office presentations, and provides an easy way to manage all of your vendors in one place.
Dynamic Pricing Capability
Customize product pricing within seconds to accommodate coupons, sales, and other discounts or promotions. This feature will also allow you to setup ongoing promotion prices, as well as schedule discounts and exclusive offers and adjust time frames according to your needs.
The Color/Size/Style Matrix
This feature is ideal for clothing and footwear stores as it enables merchants to easily set up an attribute matrix that includes different colors, sizes, and styles for different pieces of apparel, streamlining the item selection and order process.
Employee commissions
If your store thrives on sales, you can easily track your employees' commission earnings. This will make things easier when determining things such as employee bonuses, pay raises, and promotions in the company by providing accurate reports for each team member.
Gift receipts
Gift receipts encourage customers to make more purchases from your store—ideal for clothing, home goods, and more. These can also be sent out electronically as well as included with the customer receipt at the time of purchase.
Layaway
Offer customers purchasing flexibility with a layaway system that allows you to manage everything in one place. From the items on layaway, to the customer contact information, you can track everything from this page, and make adjustments accordingly when things progress.
Alerts to Check ID
This feature is excellent for small liquor businesses as it reminds cashiers to verify the customer's ID before making the sale of alcohol or tobacco products. This feature helps eliminate the worry about a team member risking ramifications of improperly performing their duties as a cashier.
Benefits to Restaurants
These systems also have varying benefits to small business restaurants as well. From making sure your kitchen team receives the orders instantly, to making the billing process more streamlined for the customer, these systems have many amazing features to offer.
Have problems tracking the daily special, or even which dishes are selling better than others? Now you can use these POS features to track each special you offer with ease.
Tired of the hassle of finding the reservation receipts? There's a POS feature for that too! Now your customers can make reservations online with ease, and your team can input reservation requests easily without the hassle of having to write everything down.