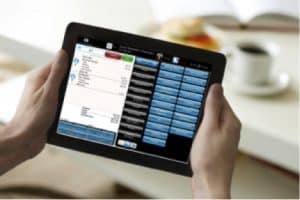 As a restaurant owner, you know that time is of the essence when it comes to your customers' orders. They come to your restaurant because they're hungry. The longer they sit, the hungrier and more impatient they become. If they have to wait too long, they may not return or may give unfavorable reviews. That's not what you want. Your best bet to keep customers happy is to submit orders to your kitchen in a timely manner, and there's no better way to do that than with the
Harbortouch Tableside
technology from
United Banc Card of TN, LLC
. This feature provides many benefits for both the restaurant and customers. In fact, here are three reasons why this Tableside system is so great.
1. Increased ordering efficiency
Harbortouch Tableside enables restaurant servers to input customer orders directly from the table via an Apple® iPad. We set up the iPad with a dedicated app that mirrors the interface of the actual POS (
point of sale
) software. As your servers take the orders, they are relayed directly to the kitchen or bar for a dramatic increase in efficiency.
2. Easy payment options
When a customer is ready to pay, that usually means they're ready to go and move on with their day or night. The longer it takes for servers or bartenders to process payment, the more frustrating it can be for customers. However, with Tableside, you have the capability to process payments right there at the table when the customer is ready.
3. Customer satisfaction
All these features are great for restaurant owners and staff, but where you'll really see the payoff is with increased customer satisfaction. With Tableside and your delicious food, your customers will leave happy and with full bellies—more likely to return or recommend your Nashville restaurant to a friend. Already
satisfied customers
from Nashville, Murfreesboro, Franklin, and Brentwood are loving the new flexibility of the iPad option from United Banc Card of TN! To find out more,
contact us
today at 
(615) 476-0255
.