United Banc Card of TN, LLC
into your restaurant. It simplifies nearly everything it takes to run a restaurant: ordering, ringing customers up, sending food orders, and monitoring sales. They are highly effective at boosting the efficiency and operation of a business. You may be asking yourself what some of the best reasons are for incorporating a
POS system
into your establishment. These are just a few of the most common and popular.
Time Management
Every employee you have, from the chefs and the bartenders to the servers, will experience a whole new time- management efficiency with a POS system. Orders are sent directly to the separate stations to match the orders for the main course, appetizers, drinks, etc. A POS system simplifies communication from the kitchen to the waitstaff, helping time management across the board.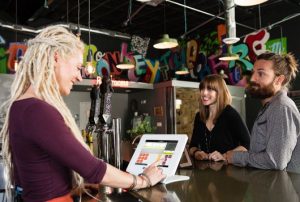 Security
Because a very high volume of cash and credit cards pass through a restaurant every day, a POS system is necessary. A POS system will track every penny of your sales, and most POS systems are also used as credit card processors—which makes swiping credit cards more secure for both the customer and the business. Servers are accountable for all their sales, and employee theft is practically impossible.
Error Issues
A good POS system heavily decreases the risk of human error since it simplifies the ordering process. Anything from hurried handwriting to forgetting to write something down can result in a botched order, but a POS system makes the process clear and easier to handle since the incoming orders arrive on the easy-to-read prep station.
Business Reports
One of the biggest perks of a POS system for restaurant managers or accountants is its ability to generate a variety of necessary business reports. They can create real-time reports demonstrating profits and losses, popular menu items, inventory, stock, credit card transactions, and each server's sales. Record keeping with a POS system is easy and clear—all data is achieved with the computerized system.

Contact United Banc Card

 today at 

(615) 476-0255

with any questions you have for us. We can even provide you with an 

estimate

. We are based in Nashville, TN, and we supply affordable POS systems, utilizing Harbortouch touch screens, throughout 

Tennessee

. We serve businesses from Memphis, Jackson, and Clarksville to Kingsport, Knoxville, and Chattanooga.

There are so many benefits to installing a POS system from