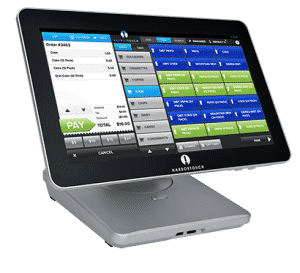 Tennessee business owners are always looking for ways to track profits and increase efficiency. Throughout Nashville and the greater Middle Tennessee area, many retailers and mobile merchants have found answers with an Echo Harbortouch POS System from United Banc Card of TN, LLC.

The best reason for purchasing a point-of-sale (POS) system is that it will have a dramatic impact on any retail or hospitality business, giving management a brand-new degree of options for procedures, growing efficiency, improving profits, and helping fine-tune its business design. You can also track employee hours and keep an eye on your inventory. POS systems can make detailed assessments that can help you—the business owner or manager—make more-informed business choices.
An Echo Harbortouch POS System is not your traditional cash register! Its sleek tablet design and touch-screen technology make it user-friendly. Plus, this POS system is perfect for mobile merchants or businesses on the go. Other ideal candidates for the Echo Harbortouch POS System include bookstores, convenience stores, low-volume catering services, or food trucks.
Contact a United Banc Card of TN, LLC sales representative today at 615-476-0255 to discover more about an Echo Harbortouch POS System!
United Banc Card of TN, LLC—based in Nashville—supplies affordable point-of-sale systems across Tennessee. From Jackson, Memphis, and Clarksville to Kingsport, Chattanooga, and Knoxville, we provide retail POS systems for clients in the retail, restaurant hospitality, QSR and delivery, liquor store, and convenience store industries.