Today, quickly and easily, your business can process transactions courtesy of NFC mobile payments. Whether in a restaurant, retail setting, convenience store, or mobile/portable business, there must be a POS system in place. POS stands for (point-of-sale). This is how consumers check out and pay for their services or products.
Every time you go grocery shopping, you are using the store's POS system. Whether paying for your groceries with cash, debit card, or credit card, when you go through the checkout counter, the cashier uses some type of POS system.
Here, we're going to look specifically at NFC mobile payments.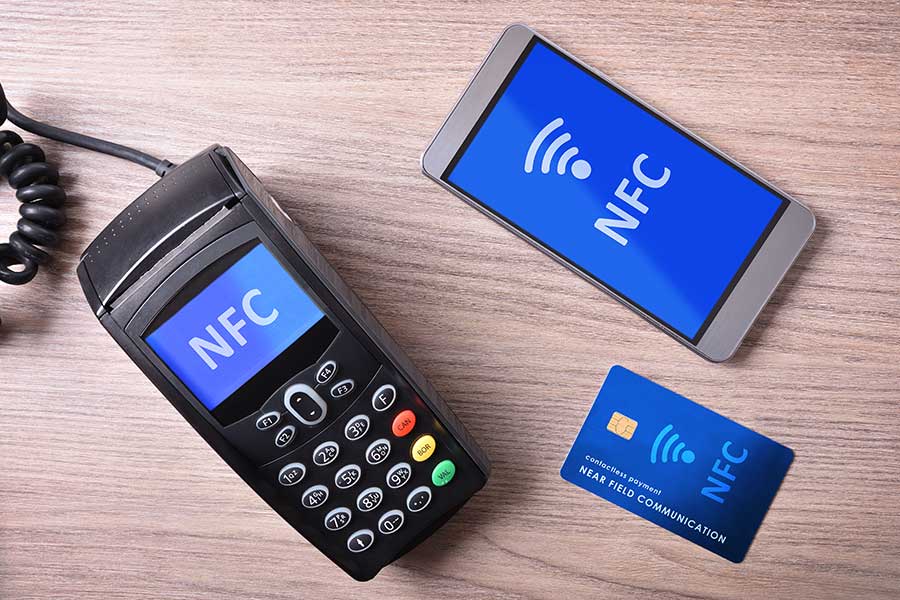 NFC Payment Meaning
First of all, what does NFC stand for? Answer: Near Field Communication.
Without going into high tech detail, a short NFC mobile payments meaning/definition consists of the following: NFC technology allows specific devices and card readers short distance communication.
For many businesses, NFC is convenient and very little risk is presented by the use of these systems. In addition to NFC enabled credit cards, NFC Contactless payments can be accepted using smart watches, tablets, laptops, iPhones, and android devices.
What Are Mobile NFC Payments?
The digital payment option referred to as NFC mobile payments means that, as long as a business has an NFC enabled reader, payments can be made through various means (described above). Without requiring employees to handle cards or cash, customer payments can be accepted conveniently and quickly by numerous types of businesses.
Who Uses Mobile NFC Payments?
A wide range of businesses use the ideal payment processing option of NFC mobile payments. Just a few of these businesses include professional service providers, restaurants, and retailers.
As a Business Owner, What Can I Expect?
If NFC payments are accepted by your business, you can expect to pay fees not dissimilar to the processing charges that apply to standard credit cards. This includes a small transaction value percentage and a few cents per transaction.
Though some businesses might have to purchase a dedicated reader, many high-quality card readers are already enabled for NFC reading.
NFC Mobile Payments – The Benefits
If you're wondering why so many businesses use the mobile NFC payment system, here are just a few of the benefits they – and their consumers – are already enjoying:
Per transaction, less time spent
Overall customer satisfaction increases
Checkout lines are speedier than ever
Excessive time spent at the register and endlessly long lines are becoming a thing of the past
What's more, transactions are more secure than with some other POS systems (i.e., swiped transactions). Encrypted data is used. If you're familiar with chip-enabled payment cards, NFC technology uses the same security protocol. Compared to standing at a terminal and swiping a card – the traditional method many people are used to – NFC mobile payments are more secure.
Do You Have Questions about NFC Mobile Payments and Other Merchant Services?
If you have questions about NFC, POS, and other merchant services, please contact us at United Banc Card of TN. Feel free to use our online form. Just fill it out and send it in. We'll get back to you as soon as possible. We can answer all your questions regarding services, equipment, and other solutions, and introduce you to today's world of POS.