Lavu Pos Systems
What's in the box?
The key to a successful restaurant is keeping things running smoothly behind the counter with the Lavu POS System from United Banc Card of TN gives Nashville business owners, managers, chefs, and waiters alike a simple yet sophisticated way to keep track of everything from inventory levels to special discounts to split checks. Contact us today at (615)-476-0255 for more information about us and our point of sale systems.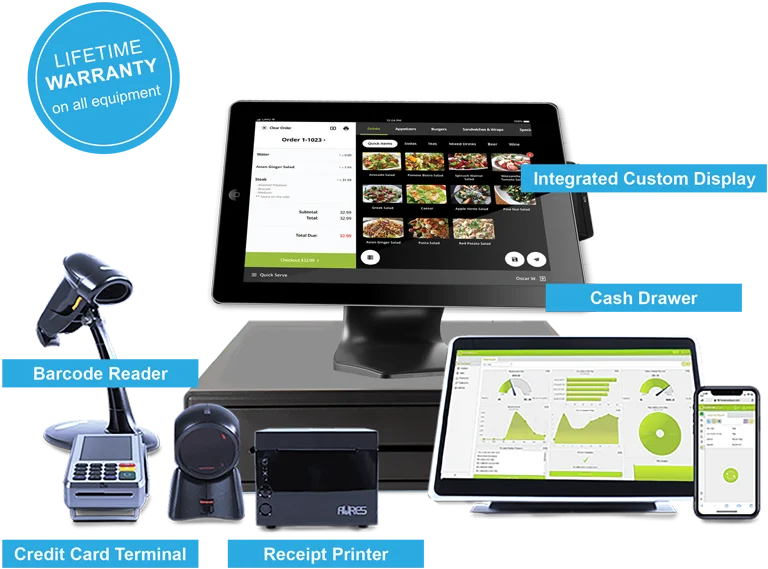 POS Restaurant Software in Nashville
The Lavu POS System is specifically designed for restaurants, our point-of-sale software has a wide variety of perks and special features that make it ideal for any restaurant operation in Nashville.
Improve kitchen efficiency.
The kitchen receives each order as soon as it's put into the system, ensuring that there's no breakdown in communication between the waitstaff and the chef. The restaurant POS also keeps track of fresh produce and offers a warning when quantities run low. Your waiters will never accidentally oversell limited-quantity dishes again.
Streamline ordering and billing.
The restaurant POS system comes with the capability for waiters to input orders directly at the table using an Apple iPad. Billing also becomes more efficient, since waiters can split checks with the touch of a button.
Detailed reporting.
How well are the specials selling? Do diners order more fish, chicken, or beef? Should you add more desserts to the menu? These questions are hard to answer if you're just relying on waiters' testimony and a tall stack of carbon-copy receipts, but not with our restaurant software. From financial overviews to labor reports, our POS can provide complete data about your Nashville establishment's daily operations.
Online reservations module.
Stop relying on scraps of paper and outdated table layouts to manage your reservations. Our free online reservations module not only provides an easily integrable interface for website visitors but also allows staff to enter reservations manually. The module facilitates table layout management, enabling you to see at a glance which tables are occupied and which are free. When a table is ready, the patron is alerted by a text message.
Contact United Banc Card of TN at (615)-476-0255 for more information about our services in Nashville and the surrounding counties in Tennessee. We offer the popular Lavu Restaurant Pos Systems which are optimized for quick-service restaurants, convenience stores, liquor stores, and retail stores, as well as ATM machines.
Optional accessories include:

Remote Printer

Scale

Kitchen Video System

Customer Display Pole

Caller ID

Additional Time Clock Cards