Retailcloud Retail POS
Take control of your retail business with our comprehensive suite of management tools. With features such as Point of Sale, CRM, Loyalty Marketing, Time & Attendance tracking, and Real-time reporting & Sales Analytics, with Retailcloud POS Systems you'll have all the resources necessary to successfully navigate your business operations.
Retailcloud prioritizes the success of your business by offering a comprehensive range of services beyond just a point-of-sale system.
Our cutting-edge in-store Point of Sale (POS) solutions, seamless online integration, easily accessible and visually stunning reports and analytics, revolutionary cloud-based web portal, and state-of-the-art mobile apps offer you an all-encompassing suite of tools to optimize and streamline every aspect of your operations.
With our vast array of diverse applications and meticulously chosen certified hardware options, you have the opportunity to tailor-make an impeccable solution that flawlessly caters to your unique business requirements. Furthermore, our adaptable platform guarantees that as your enterprise flourishes and expands, your point-of-sale solution will effortlessly keep pace, never missing a beat.
Turn your store into a dynamic and versatile omnichannel powerhouse, effortlessly bridging the gap between in-store, online, and mobile selling experiences.
Our retail point of sale solutions are designed to effortlessly manage sales and provide tools that enhance the in-store experience for your customers. With retailcloud, you can easily synchronize all your products and seamlessly launch your integrated eCommerce store with just a few simple clicks.
Get started effortlessly and establish a credible online presence. Allow customers to collect their purchases in-store during designated hours. Additionally, enjoy the convenience of an integrated system that keeps track of your in-store stock.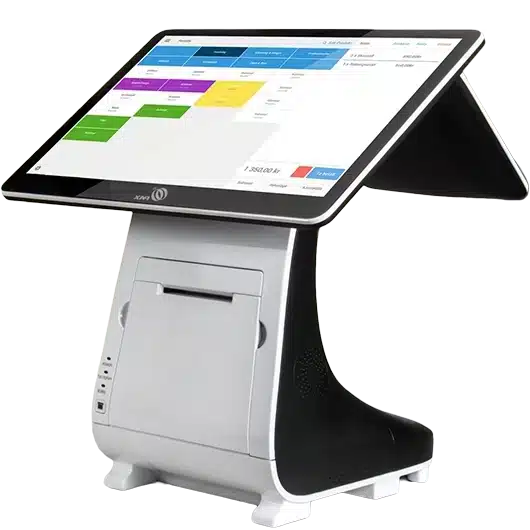 Retailcloud POS System
Hybrid Retail/Hospitality (i.e. corner & convenience stores)
REQUEST DEMO View Pricing
*Restrictions apply for additional equipment available for this system. Call for details.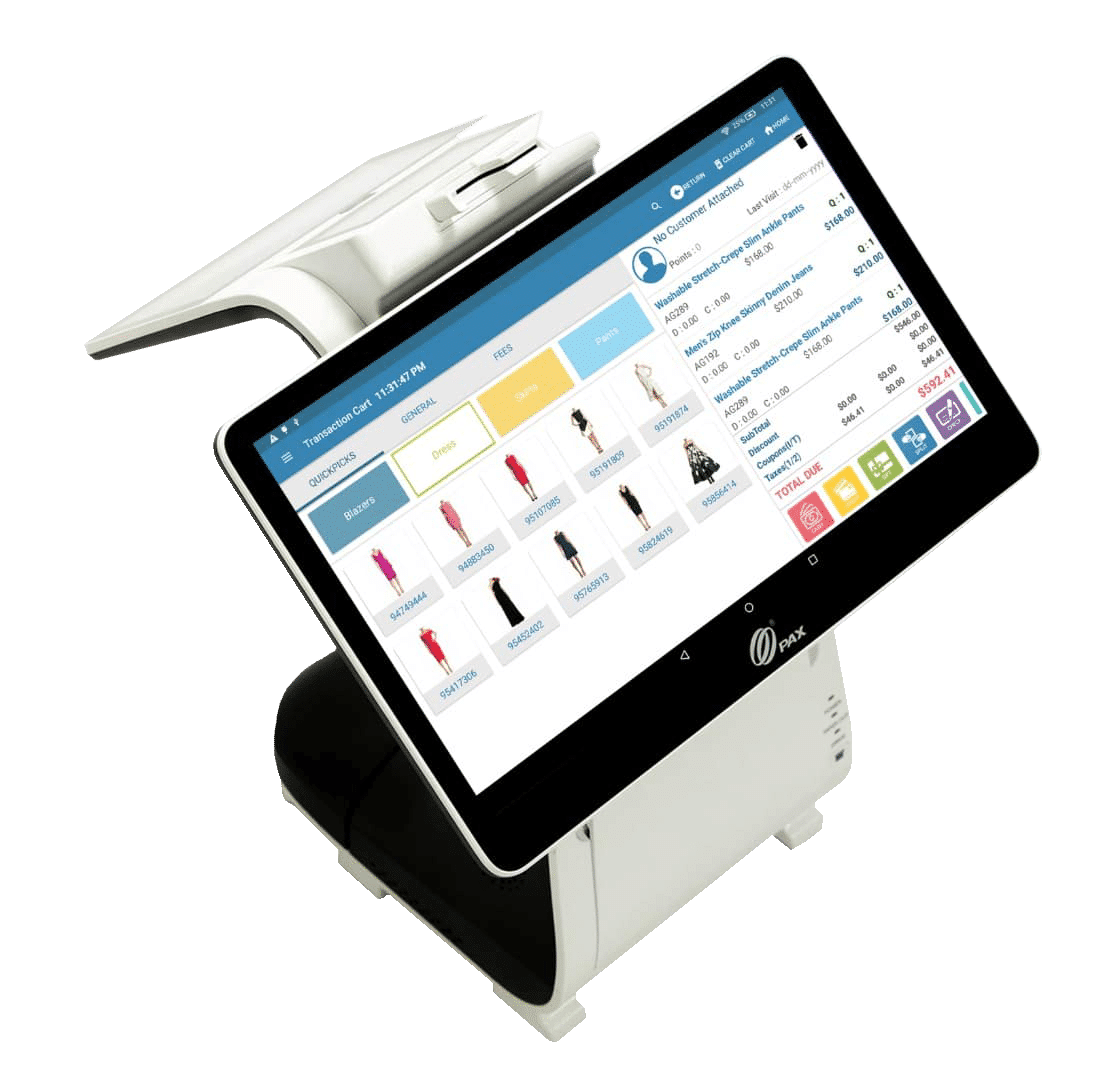 Enterprise Retailcloud System
Enterprise Retail Solution
Real-Time Adjustments Made Simple
Our premier back-office system designed specifically for retail store owners in Nashville. With this advanced system, store owners can easily update their inventories and prices from the convenience of their own computers. This streamlined process allows for real-time adjustments to sale prices, making it effortless to accommodate coupons and other discounts. But that's not all – our system goes beyond inventory management. Through strategic collaboration with United Banc Card of TN, we provide merchant services that will enhance your overall payment process. Our POS terminal is equipped to accept cash, checks, debit cards, and credit cards smoothly and securely.
Retailcloud Retail POS
What's in the box?
In today's competitive market, it is of great importance for retail store owners to restructure their operations so as to keep afloat. United Banc Card of TN offers free* point-of-sale software that is designed to deliver those exact results, from employee tracking to inventory management and more. Contact us today at (615) 476-0255 for more information about our retail-store software in Nashville, and throughout Tennessee.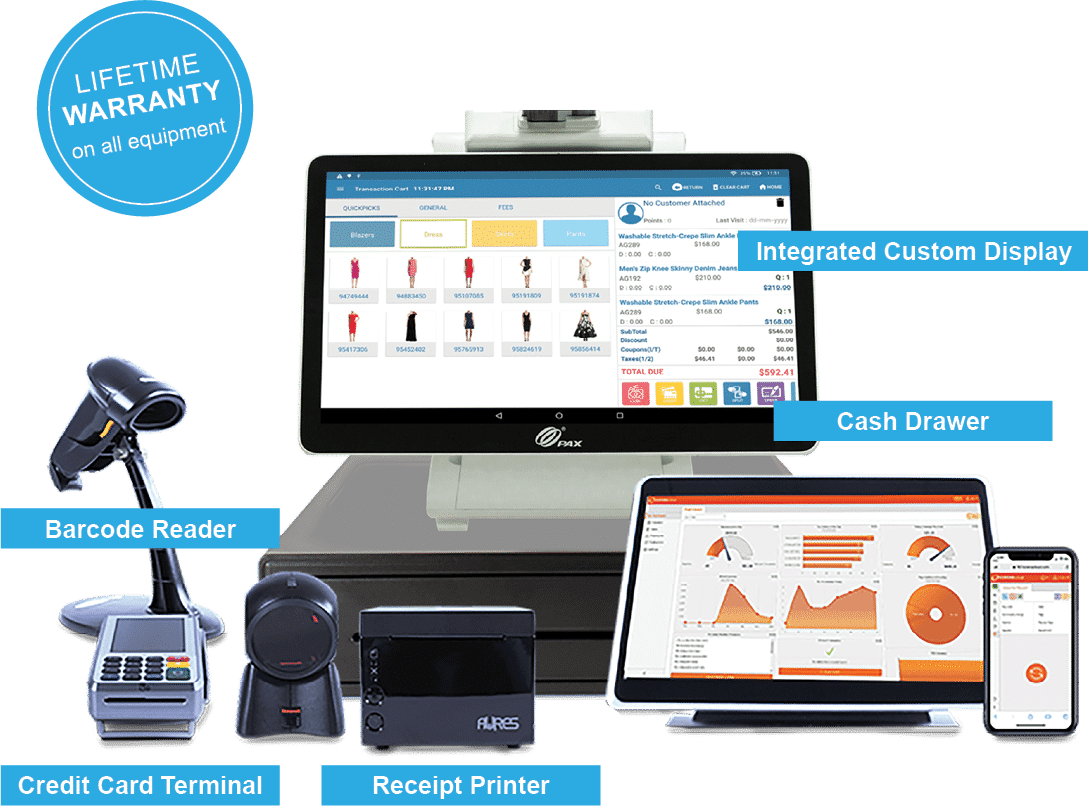 Customer Connections
Incorporating these features into your Retail POS System provides a seamless experience for both business owners and their customers. The software streamlines processes by automating various tasks such as tracking sales records or managing inventory levels. These time-saving benefits translate into better overall efficiency so that you can focus more on building meaningful connections within the local Nashville community.
Our Retail POS Systems are available free of charge for those who enter a merchant processing agreement with United Banc Card of TN. With 24/7 customer support, cutting-edge technology, and a lifetime warranty, our inventory management software is the obvious choice. Contact us today at (615) 476-0255 to learn more about restaurant, QSR and delivery, retail, and liquor store point-of-sale systems, as well as ATM sales, in Nashville, TN and beyond.
Retailcloud POS Systems Inventory Management & Tracking
Convenience stores in Nashville require robust inventory software to effectively manage their wide range of items. With this system, retail store owners can efficiently organize and maintain control over their inventory. It enables them to keep track of stock levels, identify products that need replenishing, and determine which distributors supply particular merchandise.
The software also streamlines the process of creating purchase orders, making it a hassle-free experience for store owners.
By utilizing this inventory software, store owners can easily monitor the availability of various products and ensure they never run out of popular items. They can set up automatic reorder points to receive notifications when stock levels fall below a certain threshold. This feature helps prevent overstocking or understocking issues, ensuring smooth operations and reducing revenue loss.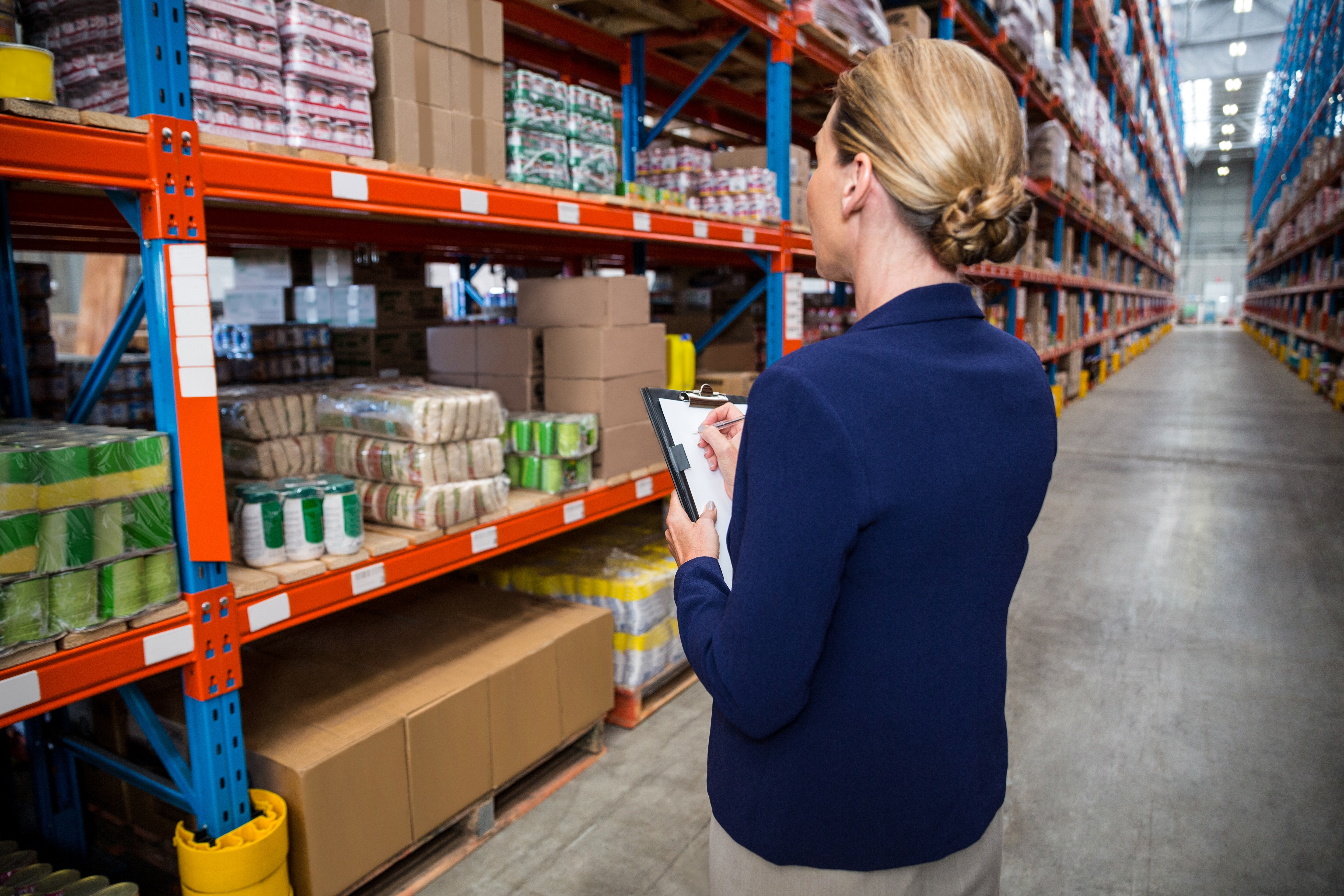 Retailcloud Retail POS
Revolutionize your retail business with our all-encompassing suite of management tools. Seamlessly take charge of every aspect using Retailcloud POS – the ultimate solution for success. Our system has many useful features like a cash register, customer management, loyalty programs, time tracking, and sales reports. We also offer additional services to help you succeed.
Our in-store POS solutions ensure smooth transactions at every counter while our online integration allows for seamless connectivity across platforms. You can easily see reports and analytics on any device using our web portal or mobile apps. You have control no matter where you are. We offer many applications and hardware options to customize a solution for your business. Trust Retailcloud POS to revolutionize the way you manage your retail empire!
What is Retailcloud Retail POS?
Retailcloud Retail POS offers many useful features for retail businesses. One important feature is its inventory management system, which helps businesses keep track of their stock levels in real-time. This reduces the risk of running out of stock or having too much. Another advantage is its integrated customer relationship management (CRM) functionality. With this feature, retailers can collect and analyze customer data to understand their buying habits and preferences. This helps businesses create targeted marketing strategies and offer personalized promotions or discounts to their customers.
Additionally, retailcloud Retail POS has strong reporting features that allow retailers to create detailed sales reports, track employee performance, and find trends or areas for improvement. These insights help businesses make informed decisions about pricing strategies, product placements, and inventory management.
Overall, retailcloud Retail POS offers a powerful solution for retailers looking to streamline their operations while providing exceptional customer service. This product is great for both small boutiques and large chains because it has many different features and is easy to use.
Key Features:
One of the key features of Retailcloud Retail POS is its comprehensive inventory management system. With this feature, retailers can easily keep track of their stock levels and manage reorder points. The system allows for real-time inventory updates, ensuring that retailers always have accurate information about their product availability. This helps to prevent overselling and out-of-stock issues, leading to increased customer satisfaction.
Integrating Retailcloud Retail POS with other tools helps retailers simplify operations and avoid manual data entry. This saves time and reduces errors, improving efficiency and accuracy. Retailcloud Retail POS also offers strong reporting and analytics. It generates detailed reports on sales, customer behavior, and inventory turnover. Retailers can use this data to make informed decisions about pricing, marketing, and product assortment.
Overall, Retailcloud Retail POS stands out for its powerful inventory management capabilities, seamless integration with other business systems, and comprehensive reporting features. With these key features in place, retailers can streamline their operations while gaining valuable insights to drive business growth.
Benefits of using Retailcloud Retail POS:
One of the key benefits of using Retailcloud Retail POS is its seamless integration with various payment methods. With this system, businesses can easily accept payments from credit and debit cards, mobile wallets, and even contactless payments. This not only provides convenience for customers but also reduces the risk of human error when processing transactions.
Another advantage of Retailcloud Retail POS is its robust inventory management capabilities. The system helps businesses know how much stock they have at all times and updates inventory when something is sold. This prevents running out of stock and helps businesses decide when to restock or promote items.
Additionally, Retailcloud Retail POS offers valuable customer insights through its detailed reporting features. Businesses can analyze sales data, identify trends, and gain a deeper understanding of their customer base. This information can then be used to create targeted marketing campaigns, improve customer loyalty programs, or even optimize store layouts for better product placement.
Enhanced Payments
Overall, retailers who choose to use Retailcloud Retail POS benefit from enhanced payment options, streamlined inventory management, and valuable customer insights that can drive business growth and profitability.
Retailcloud also empowers retailers with real-time analytics that provide actionable insights into consumer behavior, inventory management, and sales performance. This enables retailers to make informed decisions and adapt quickly to changing market trends. By leveraging the power of cloud-based technology, Retailcloud ensures scalability, security, and flexibility for retailers as they continue to grow their businesses.
Furthermore, Retailcloud's commitment to ongoing innovation means that it will continue to evolve alongside the ever-changing retail landscape. As new technologies emerge and consumer preferences shift, Retailcloud will be at the forefront of providing cutting-edge solutions that meet the evolving needs of retailers. In this way, Retailcloud is not just a provider of point-of-sale software – it is a strategic partner that can help retailers' future-proof their businesses in an increasingly competitive marketplace.
RetailCloud is revolutionizing the way retail operates by empowering smaller businesses with accessible yet powerful tools previously only available to larger corporations. Through its comprehensive range of features including inventory management, customer relationship management, and detailed analytics, the platform enables small business owners enhanced visibility into key aspects from multiple store locations.
Key Advantage of Retailcloud POS Systems
One key advantage of retailcloud is its cloud-based nature. Unlike traditional POS systems that require on-site servers and extensive IT infrastructure investments, retailcloud operates entirely in the cloud. This means that retailers can access real-time sales data, monitor inventory levels, and manage their stores remotely from anywhere with an internet connection. Additionally, being on the cloud ensures automatic software updates and backups for secure data storage.
Another noteworthy feature of retailcloud is its seamless integration with e-commerce platforms. In today's digital age where online shopping has gained significant popularity among consumers worldwide, having a POS system that seamlessly integrates with your e-commerce website is crucial for success. Retailers can synchronize their physical store inventory with their online platform effortlessly using retailcloud. This integration not only eliminates the headache of manual inventory management but also allows retailers to provide a consistent shopping experience across both offline and online channels.
---
Optional accessories include:

Debit PIN Pad

Scale

Additional Time Clock Cards